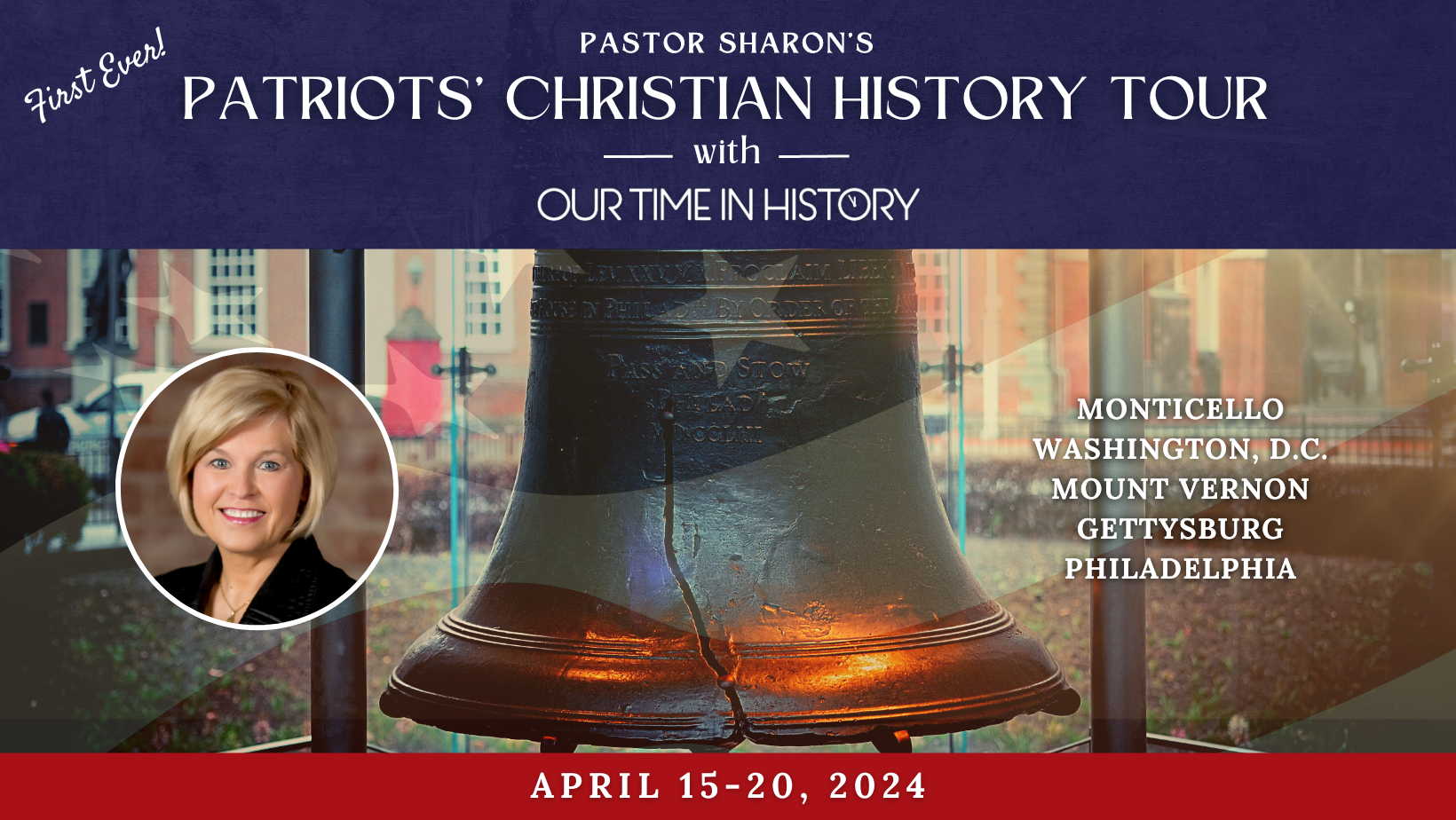 We are looking forward to our first ever Patriots' Christian History Tour with Rene Couture. Rene is one of our Victory Bible College graduates, and as a professional tour guide, she's been teaching people about our country's Christian heritage for almost 3 decades. We will actually be going to many of the places that we've heard and read about in our history books. Our country is in the beginning of another spiritual awakening. Millions of people have been praying. America needs an intervention of God, and we will see it as we release our faith together at these historic sites and obey His Spirit.
We've been put here in this country — raised up for "such a time as this." God is calling us to be His voice for Him in this hour. I was with Reinhardt Bonnke when he shouted, "America shall be saved." I am believing this beyond man's agenda. God's agenda will be done, and the final harvest will be won. This is the year of God's turning!
Join us for a trip you won't forget!
~ Pastor Sharon
---
On a tour with Rene, you will discover America's rich spiritual heritage and see your purpose and destiny as a citizen with new eyes. You will be challenged to rise up and make a difference in our nation as Rene teaches and trains with passion and conviction during this important time in history. 
---
Tour Itinerary:
The tour itinerary is an ongoing building process of optimization that gets frequently adjusted, depending on a myriad of factors. Expect long, but exciting, life-changing days! The current itinerary is as follows:
We will meet in Richmond, Virginia, and enjoy a dinner at the historic Michie Tavern
Thomas Jefferson's Monticello – the estate of our third president
Washington, D.C. – United States Capitol building, Memorials (Jefferson, FDR, World War II, MLK, Iwo Jima, Lincoln, Korean, Vietnam, Air Force), Washington Monument, Museum of the Bible, Library of Congress, White House and Supreme Court photo stops, and more!
George Washington's Mount Vernon – our first president's estate
Gettysburg – Gettysburg Battlefield Tour and Museum, visit to Historic Dobbin House Tavern (part of the Underground Railroad), Cyclorama
Philadelphia – Liberty Bell, Independence Hall, Constitution Center
Tour Details:
Monday, April 15 through Saturday, April 20, 2024 (6 days, 5 nights)
Tour price is $2,400 per person (land only; air not included)
Tour includes

professional tour guide
5 nights' accommodations (double occupancy)
ground transportation (from RIC airport on arrival, throughout the week, and returning to PHL airport at end of tour)
entrance fees to ticketed attractions
five breakfasts, six lunches, and five dinners

You will be responsible for your own flights to Richmond International Airport (RIC) and from Philadelphia International Airport (PHL). Air must be a multi-city ticket which means flying into (RIC) and out of (PHL) back to place of origin. Flights should not be purchased until viability of tour is confirmed.
$100 nonrefundable deposit is due upon the receipt of your payment invoice following the submission of the online registration form in order to hold your place on this tour. 
Space is limited for this tour; register and pay your deposit ASAP to reserve your spot.
Tour is open to men and women ages 18 and over.
Tour price is based on a minimum number of confirmed tour participants; if this minimum is not met, tour will be evaluated for viability and adjusted for cost.
Registration closes at 11:59pm on Friday, December 15, 2023.
Additional information:
Tour itinerary is subject to change without notice if circumstances arise that are beyond our control.
Payment policy: You may pay in full or make payments via credit or debit card (Visa, MasterCard, American Express, or Discover).
Tour must be paid in full by Wednesday, February 14, 2024.
Refund and cancellation policy:  Deposit is nonrefundable and tour payments are generally nonrefundable; however, if you need to cancel no less than 31 days prior to the start of the tour, you may be able to get a partial refund if the money has not already been used on nonrefundable purchases such as air, hotel, activities, and administrative costs. 
Trip insurance may be purchased by individual tour participants by contacting Seven Corners.
---
I've said for many years that something supernatural happens when you go to the places where history happened. God is not done with America. He still searches the earth for people whose hearts are turned towards Him so that He can support them. 
The cause of freedom is the cause of God, and America has always been that beacon of hope that the rest of the world looks to for freedom and liberty. You might ask, "Why is that?" It is because America's greatness has always been tied to our goodness and our goodness and success is most certainly tied to our connection to God. 
Our founders called this amazing nation a "holy experiment in liberty." They didn't know that we would become the greatest nation the world has ever known. Each one of us plays a part in the success or failure of the nation. Come be a part of this life-changing week as together we learn more about our incredible Godly history as a nation, and become inspired to take your place in OUR TIME IN HISTORY.
~ Rene