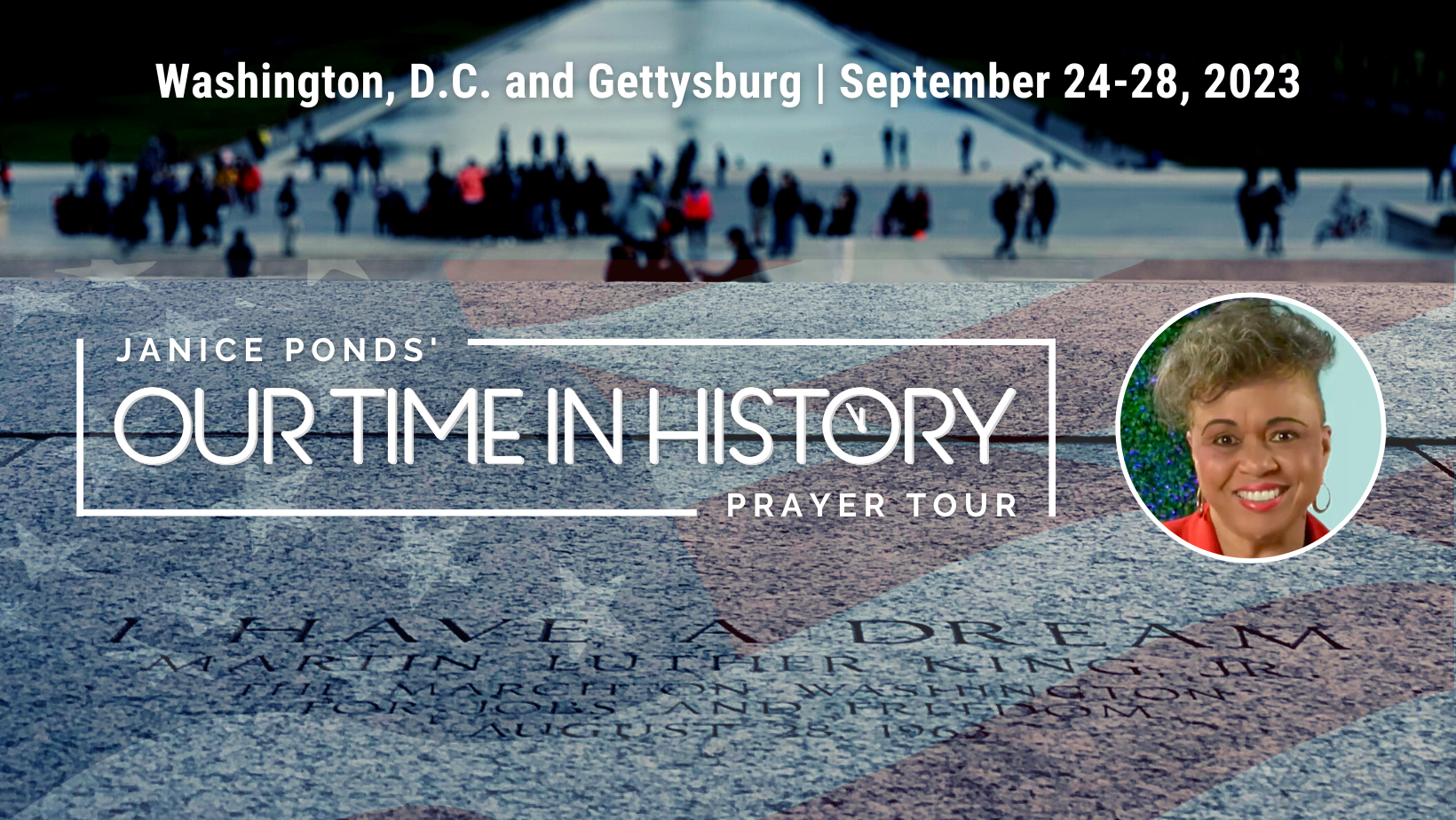 REGISTRATION FOR THIS TOUR IS CLOSED
In 2018, I was invited to go on a prayer tour to Washington, D.C. It was organized by Our Time in History. The entire event immediately got my attention as I absolutely love history!
I had been engulfed in a process of discovering history that was accurately told as a result of writing a book that dealt with how deceived we have been as Americans. This deception occurs simply because we have been lied to over and over again about so many things from a historical perspective. I knew beyond all doubt that I was to be a part of that prayer tour in 2018.
When I arrived in Washington, D.C. in 2018, that's when I met Rene Couture, from Our Time in History. As the organizer of the tour, it was obvious that she was full of so much knowledge! It coincided with original documents that I had researched. Being involved in intercessory prayer as an integral part of the tour took things to an entirely other level.
All I can say is that by participating in the 2018 event, my life was totally changed! It was powerful as we embarked upon a journey that was consistent with what I had discovered in original documents that I had researched. I finally saw with my own eyes what matched history being accurately told. Praying as a team was indescribably powerful! We prayed in physical places that absolutely blew my mind!
We have gone through so much as a nation since 2018, and God made an indelible impression upon my heart that he wanted me to organize a prayer tour this year. Out of obedience, I'm stepping out in faith and partnering with Our Time in History to do just that! Efforts have been made to revise and even eliminate history, but we will not fall for it. I have great anticipation regarding what will occur on this tour! September 25-29, 2023, here we come!
~ Janice
---
On a tour with Rene, you will discover America's rich spiritual heritage and see your purpose and destiny as a citizen with new eyes. You will be challenged to rise up and make a difference in our nation as Rene teaches and trains with passion and conviction during this important time in history. 
---
Tour Itinerary:
The tour itinerary is an ongoing building process of optimization that gets frequently adjusted, depending on a myriad of factors. Expect long, but exciting, life-changing days! The current itinerary is as follows:
Washington, D.C – United States Capitol building, Memorials (Jefferson, FDR, World War II, MLK, Iwo Jima, Lincoln, Korean, Vietnam, Air Force), Washington Monument, Museum of the Bible, Library of Congress, White House and Supreme Court photo stops, and more!
Gettysburg – Gettysburg Battlefield Tour and Museum, visit to Historic Dobbin House Tavern (part of the Underground Railroad), Cyclorama
Tour Details:
Monday, September 25 through Friday, September 29, 2023 (5 days, 4 nights). 
Tour price is $1875 per person (airfare not included).
Tour includes:

professional tour guide
4 nights' accommodations in Washington, D.C. metro area (double occupancy)
ground transportation (from airport on arrival, throughout the week, and returning to airport at end of tour)
entrance fees to ticketed attractions
four breakfasts, four lunches, four dinners

The official start of tour is at 4:00pm on Monday, September 25 upon pickup at Reagan International Airport (DCA).
$100 nonrefundable deposit is due upon the receipt of your payment invoice following the submission of the online registration form in order to hold your place on this tour. 
Space is very limited for this small group tour!  Register and pay your deposit ASAP to reserve your spot!
Tour is open to men and women ages 18 and over.
Tour price is based on a minimum number of confirmed tour participants; if this minimum is not met, tour will be evaluated for viability and adjusted for cost.
Registration closes at 11:59pm on Sunday, February 19, 2023.
Additional information:
Airfare is NOT included. Plan to fly in to Reagan International Airport (DCA) and embark on motor coach by 4:00pm on Monday, September 25.
Since people will be flying in from various cities, please note that the bus will pick up the entire group at 4:00pm at Reagan International Airport (DCA) on Sunday. 
Please make return flight arrangements to accommodate a 2:00pm drop off at DCA on Friday.
Tour itinerary is subject to change without notice if circumstances arise that are beyond our control.
Payment policy: You may pay in full or make payments via credit or debit card (Visa, MasterCard, American Express, or Discover).
Tour must be paid in full by Monday, July 24, 2023.
Refund and cancellation policy:  Deposit is nonrefundable and tour payments are generally nonrefundable; however, if you need to cancel no less than 31 days prior to the start of the tour, you may be able to get a partial refund if the money has not already been used on nonrefundable purchases such as air, hotel, activities, and administrative costs. 
Trip insurance may be purchased by individual tour participants by contacting Seven Corners.
---
I've said for many years that something supernatural happens when you go to the places where history happened. God is not done with America. He still searches the earth for people whose hearts are turned towards Him so that He can support them. 
The cause of freedom is the cause of God, and America has always been that beacon of hope that the rest of the world looks to for freedom and liberty. You might ask, "Why is that?" It is because America's greatness has always been tied to our goodness and our goodness and success is most certainly tied to our connection to God. 
Our founders called this amazing nation a "holy experiment in liberty." They didn't know that we would become the greatest nation the world has ever known. Each one of us plays a part in the success or failure of the nation. Come be a part of this life-changing week as together we learn more about our incredible godly history as a nation, and become inspired to take your place in OUR TIME IN HISTORY.
~ Rene